Citrine Wagtail -

Sitronerle -
Motacilla citreola
Citronärla - Citronvipstjert - Sitruunavästäräkki - Citroenkwikstaart - Zitronenstelze - Bergeronnette citrine - Lavandera Cetrina



Offshore vessels are very much like islands in that the proportion of rarities to common migrants is much higher than at mainland locations. This might be because rarities, having travelled a long way are more prone to be exhausted and land on the first solid "ground" they find.


The definitive guide to piptits and wagtails
This Citrine Wagtail - the first I have seen offshore - landed on a survey vessel in transit from a job West of Shetland to Peterhead. The vessel was south of North Ronaldsay at the time the bird was first sighted and a Citrine Wagtail had been seen on the island during the morning of 07 September - perhaps this was the same bird....?



Citrine Wagtail, at sea, south of Orkney islands, 07 September 2011



Citrine Wagtail, Offshore NE Scotland, 07 September 2011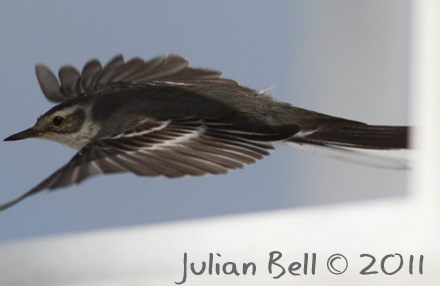 Citrine Wagtail struggling to land on deck, at sea off NE Scotland, 07 September 2011



A great read the day before one heads out looking for rarities...



The above map shows where the bird was seen



Citrine Wagtail, Herdla (near Bergen), Norway, September 2019
I found this bird during a guiding trip - a nice bonus bird!!
All content on this site, including Natural Born Birder logo, is copyright © 2006-2020
Most images on this website are for sale, please contact me regarding use of images or other enquiries.